Well I was tagged in this Christmas recipe meme by goldy, and it was good timing because I had just spent my last day of holidays making Christmas rocky road for my work colleagues.
Not an original recipe, I found it on Not Quite Nigella (a great food blog - just incase you're living under a rock!)
What makes this rocky road good? Turkish Delight. And macadamias. Together in WHITE CHOCOLATE. Yeah baby.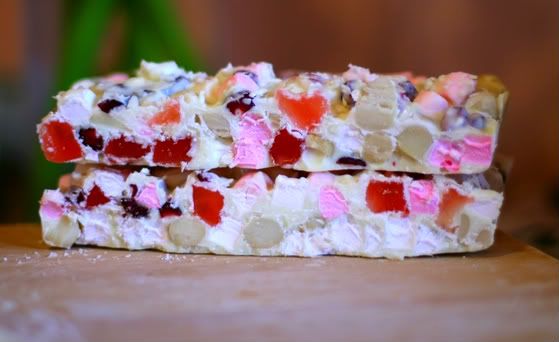 So here's the recipe:
Christmas Wonderland Rocky Road
Makes 20 pieces
500g white chocolate (or milk or dark if you like)

175g honey coated macadamias (if not available, just substitute this quantity with regular macadamias)

1 1/2 cup mini marshmallows

250g Turkish Delight cut into thirds or quarters depending on size

1/2 cup shredded coconut

1/2 cup of dried cranberries
1. Line a 21×21cms square cake tin with foil.
2. Melt chocolate over a double boiler or in the microwave in a large bowl until melted.
3. Stir in the rest of the ingredients until combined and spoon into foil lined tin.
4. Refrigerate until firm and when set cut into slices using a large, sharp knife.
Yum yum
oh yes, I actually meant to tag some other people too! These were the instructions.
I tag... Ai
mee
and
Soph
(although I know you're away).
1. Link to the person who 'tagged' you.
2. Post the rules on your blog.
3. Post your favourite Christmas recipe – something traditionally festive or something that has become a tradition in your house.
4. Tag four people at the end of your post.
5. Let each person know they have been tagged by commenting on their blog.
6. Let the tagger know the entry is posted on your blog.
7. Post your own Christmas recipe within a week of being tagged to keep this on the move.